講師詳細
Patrice 先生のプロフィール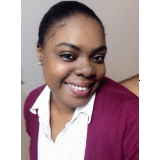 ランク:B
point:800pt
講師名
Patrice 先生
性別
女性
生年月日
1986年10月19日
カテゴリー
daily conversation, grammar, travel, presentation , speech
言語
American English
運営者コメント
英語講師歴:4年
日本語:少し
現在北海道にお住まいです。高校で英語を教えた経験があります。Jamaica Institute of TechnologyでITを学ばれました。教えることに情熱をお持ちの明るい先生です。
自己紹介
Hello, My name is Patrice Farquharson and I am from Jamaica. I am currently residing in Osaka Japan. I have over 3 years experience in teaching and also a Post-Graduate Diploma in Education and Training. My native language is English.

I prepare lessons base on your needs and how best I believe you will learn a specific topic. Therefore my teaching strategy is a combination of lesson materials, visuals, listening exercises among others. I believe in teamwork and as such is willing to work with you in areas you are interested in. I am very patient, willing and able to assist you in any area you wish to improve on.

I am a jovial person who appreciates the simplest things in life. I enjoy cooking, traveling and reading. I would love to share my culture and experience with you as I learn about yours.

Learning English will be fun, inspiring and interesting, so please allow me to assist you to become a confident English speaker. You will be able to build on your weaknesses and enhance your strengths. Please join me, it will be my pleasure to work with you.